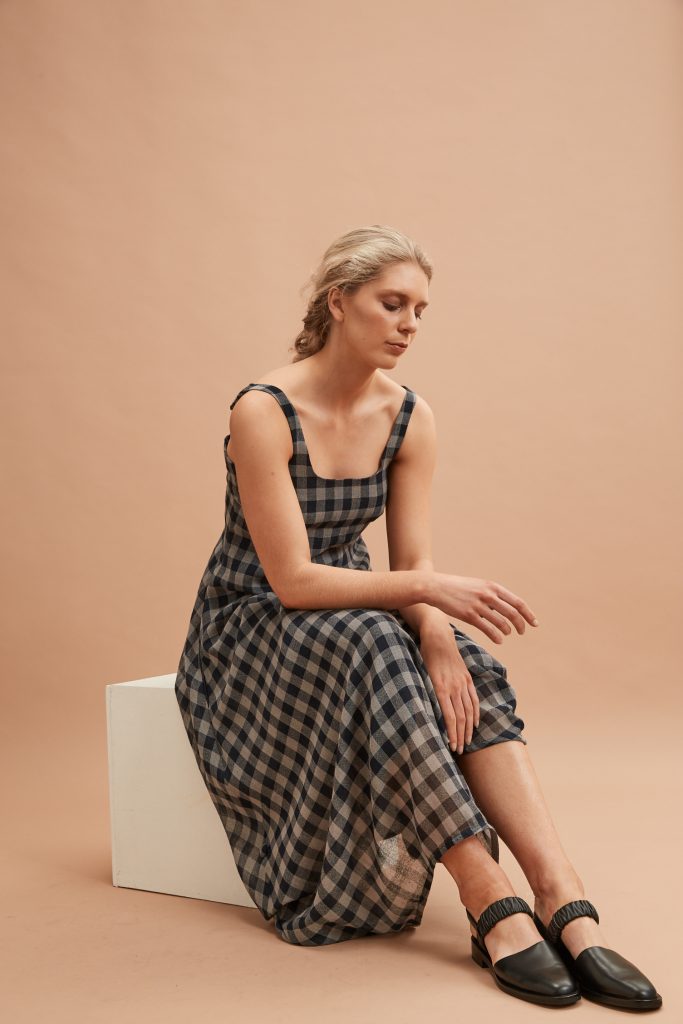 The Living Wardrobe is the outcome of my doctoral research project, in which I investigated how the fashion design process might be redirected for sustainability through an expanded design process that considers the capacity of the garment to enable responsible clothing practices of use and re-use. How this might be implemented in a contemporary ready-to-wear fashion context is suggested in the practice outcomes: a series of everyday garments accompanied by this website of resources.
The thesis is available for download from the RMIT Library Research Repository.
The catalyst for the study was a dress that I own, The Bird Dress. A vintage dress that I had worn for many years, it hinted at how fashion garments might be designed for extended use. I talk about the Bird Dress here.
Garment series
The garments developed within the research project are included on this website, under The Wardrobe menu. These are investigations into design practices and processes with the potential to foster enduring, active relationships with everyday garments. Through design and construction methods that facilitate repair, alteration and modification, the garments' capacity to meet the changing needs of wearers over time (fit, condition and taste) is increased. This approach considers that a garment may have several owners over its lifetime.
The brief for the garment series focused on three ideas for producing more sustainably designed fashion by designing for i) flexibility in size, ii) including some simple in-built style variation as it was worn, and iii) facilitating future alteration and re-modelling by a home sewer. The capacity for modification in size and style informed an approach to the design of the dress that favoured a simple silhouette comprising few parts.
From the development of these garments, an expanded design process for fashion is emerging, in which the likely consequences of wear and tear are predicted and inform the design decisions made, through a process I have coined 'use-forecasting'. This design methodology seeks to extend both the designer's and wearers' capacities to share responsibility for the lifetime of the garment within a circular economy.
QR code label and website
Each garment has a QR code label that when scanned, links to this website. The intention is that the garment communicates its enduring capacities to each owner over time, when needed. The QR code is explained further here.
This website is an outcome of the research project. It demonstrates an evolving repository of resources and tutorials to assist with repairs, alterations and modifications to update the garments and share easy, useful and rewarding sewing skills with the wearer. At present, the website is a prototype only, but I hope to develop it further in the future.
About Me
I am a fashion practitioner, researcher and educator in Melbourne, Australia.   My research focuses on sustainable fashion design practice for a circular economy. The capacity of garments to keep pace with changing fashions is critical to extending the use phase of fashion garments within a circular economic industry model. Long lasting fashion presents as a contradiction in terms, but need not be if garments are designed with reuse in mind.
Social profiles:
LinkedIn: https://www.linkedin.com/in/jo-cramer-394b67147/
Instagram: @agoodthing.wellmade
Comments, feedback and new friends are always welcome, please get in touch🙂