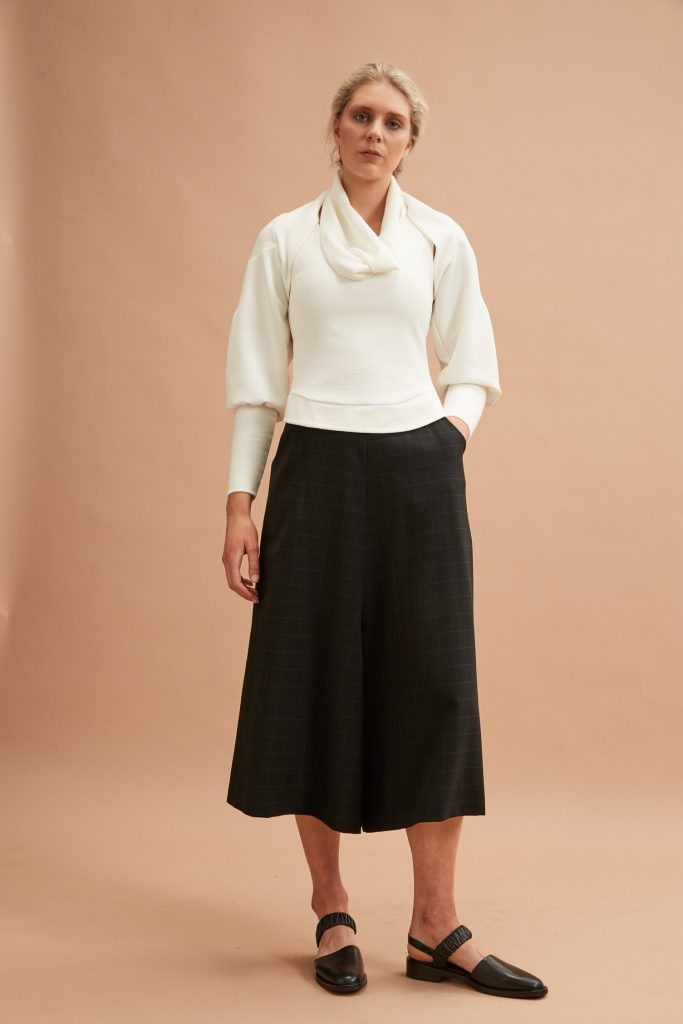 Designing Knitwear for Extended Use
Cut and sew knit garments feature prominently in contemporary, everyday womenswear.  Knit fabrics introduce additional considerations in designing garments for extended wear.  Knit garments are cut from fabrics that have either one-way or two-way stretch, joined with multi-thread chain stitching that creates flexible seams to stretch with the fabric.  Knit garments can be pulled on and off easily, often without the need for openings and fastenings.  Because they stretch to fit, knit garments are comfortable and accommodate some fluctuation in body size.  These qualities make them popular with designers and wearers alike.  Knit garments feature in all categories of fashion, particularly in the 'basics' category of foundation garments or base layers, designed to be worn regularly, in combination with more fashionable garments.
An enduring knit garment is likely be one that withstands frequent wear and facilitates repair.  Given their forgiving fit, it is likely less that during extended use, knit garments would need to be altered to accommodate changing body size.  Design for the future repair of knit garments is hampered by the narrow, densely stitched seams that are time consuming to unpick and difficult to replicate using domestic sewing machinery.  Therefore, the traditional tailoring methods investigated through the other garment styles shown on this website, need to be adapted to suit garments that through their very construction, prohibit intervention.  This leads to an investigation of modular design. 
Modular Design
In this garment, principles of modularity are applied in two ways.  The garment components are designed as modules to be interchanged easily during wear.  Interchanging parts requires no sewing skills of the wearer.  This approach seeks to support frequent use and to meet more wardrobe needs with fewer garments.  To facilitate later disassembly and reassembly as may be required for repair, each module within the garment is designed and constructed to enable intervention using the simplest (de-)construction methods possible. 
This top is made up of a singlet, a tube collar and a bolero cardigan that can be worn together or as separates.  This means it can be worn all year long- when it's cool or warm outside and in the unpredictable air conditioning.  It is a deliberately simple design: a close-fitting body with a modest round neckline, a shaped, hip-length hemline that might be tucked in or worn out, and long sleeves.  Each of these style features is a site of experimentation with principles of modularity.
(Click to show larger images with descriptions.)
The layering makes it easy to swap out pieces for different styles (perhaps a hood instead of a collar?), or wear each piece with mixed other garments.  To make each layer last as long as possible, the parts that are most likely to wear out in time have been designed to be easily replaced. 
Modular garment design for repair and renewal.
Modularity potentially overcomes the need for repair if worn garment parts can be swapped for new ones.  For example, the hem and the cuffs of knit garments are particularly susceptible to wear (dirt and holes).  Therefore, instead of the typical folded, cover-stitched allowance, the cuffs of the sleeves and the hem of the singlet body are designed as wide bands, cut from a contrast fabric and seamed into place.  When damaged or stained, the bands can be cut off and replaced with new parts made in a complementary fabric.  This potentially assists with repairs because an exact fabric match for the body of the garment need not be found.  Instead, any fabric that the wearer thinks suits the body of the garment can be used.  Since the original garment included contrasting fabric, the look of the garment need not be dramatically affected by the repair.  In fact, it presents an opportunity to update and refresh the look of the garment.
How to replace the cuffs on the bolero cardi is explained here.