The Coat was developed to explore tailoring techniques by examining design and construction methods to facilitate alterations to the width of the body and the length of the sleeve. Within a womenswear wardrobe, a coat is generally an expensive garment, considered an 'investment piece', promising several seasons of protection from the elements. It is usually purchased with the expectation that it can be worn with most of the existing wardrobe and with future acquisitions.[1] Coat design tends to favour 'classic' shapes and colours, that give traditional garments like the trench coat an association with 'timelessness'.
The intention was to develop a simple coat for the shape library with the required technical mechanisms for resizing included. In addition to this, The Coat was identified as an opportunity to reconsider how a garment might be designed for home manufacture and what basic competencies would a home sewer need to possess to take on The Coat project. To extend on the findings of The Cowl Dress, the approach taken to The Coat was to explore if the garment type might be designed to be made in two ways, a simple method, and a more complex method. The simple method might result in a neat, functional garment using few processes and limited machinery (Black Bouclé knit wool coat). The complex method would require greater knowledge of sewing techniques and greater skill in executing the construction, to produce a garment with a higher quality finish (pale grey/navy silk coat and grey boiled wool coat).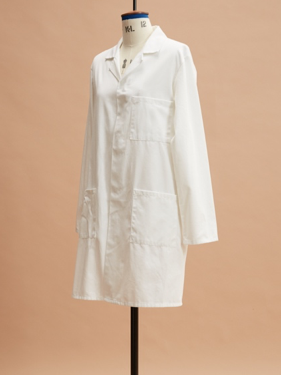 Civilian uniforms are a recurring source of design inspiration. The shape of The Coat was informed by the white duster worn by scientists and technicians while working in a laboratory. The 'lab coat' features a straight comfortable cut, one-piece collar, centre-front button (or snap) closure, in-seam pockets and a patch pocket on the chest. The Coat retains all these features, with the exception of the breast pocket. Adapted for women's outer wear, The Coat has been designed to be unlined, except for the sleeves where the lining supports the cuff and ensures the coat is easily slipped on and off over other garments.

---
[1]. In a UK study, the active life of a coat was found to be more than 5 years. Langley, Durkacz, and Tanase, Clothing Longevity and Measuring Active Use., p.5
---