Cowl Dress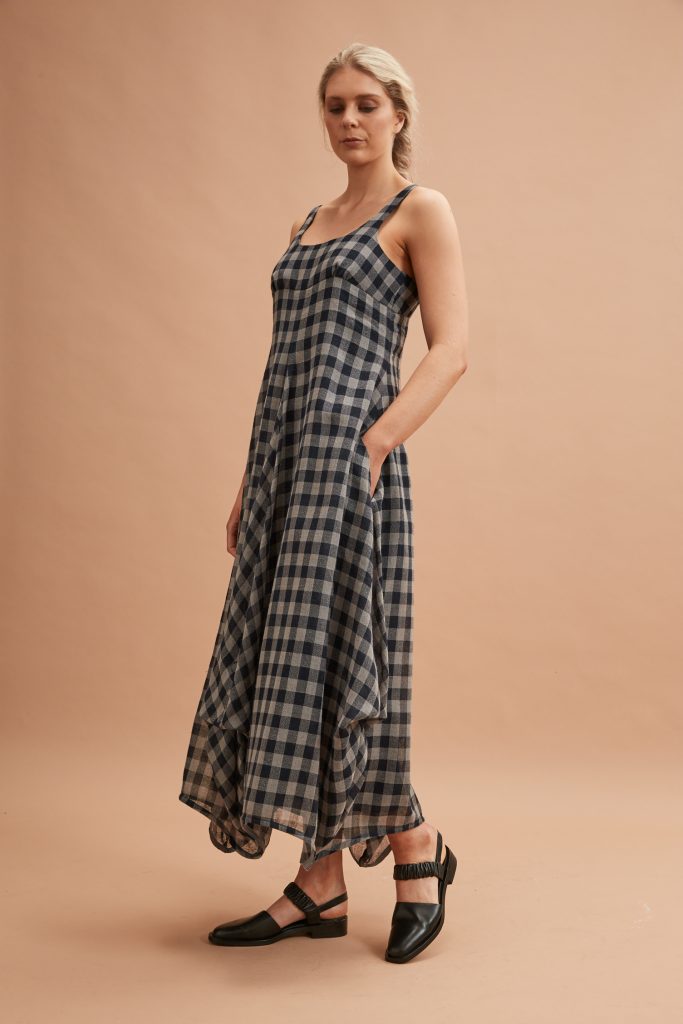 The Cowl Dress design seeks to be a flattering style that provides a comfortable fit on a variety of body shapes. It features an ankle-length skirt, with an empire bust line, modest neckline, gathered bust detail, back waist darts and generous side pockets. Day to day variation in wearing the garment is provided by buttons in the cowls that sweep up or release the fullness of the skirt.
Easy fitting and long lasting, by design.
The Cowl Dress demonstrates a suite of construction and pattern making methods that might facilitate assembly, repair or re-modelling by a home sewer across its extended use-life. These include: a pattern comprising as few pieces as possible, simple construction methods that require a limited range of machinery and other sewing equipment, familiar domestic construction processes, fabrics and trims that are easily obtainable at retail fabric stores (e.g. standard dimensions). Easy alterations have been pre-empted by using straight seams, generous seam allowances and minimal shaping to the body. Adjustable shoulder straps facilitate a good fit over the chest and pockets in the side seams offer utility so often lacking in women's wear. On the inside, a row of stitching in a contrasting coloured thread along the empire line of the bodice may be easily unpicked to reveal deep seam allowances through the side seams. This allows the dress to be let out (or taken in) a whole size through one continuous seam in the side of the skirt, bodice and facing. This same method of resizing is used in the Cowl Skirt also.